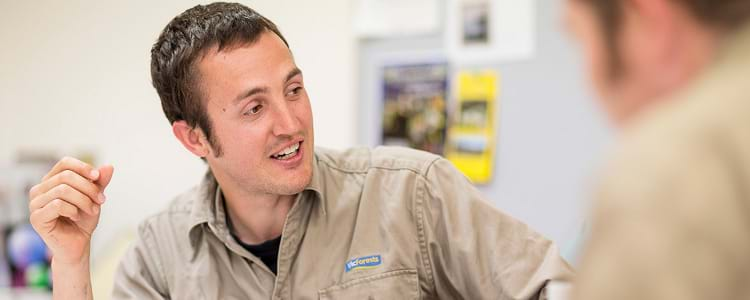 VicForests employs over 100 staff across nine regional sites throughout the Central Highlands and East Gippsland regions of Victoria, with a corporate support office in Melbourne.
We have a variety of exciting career opportunities available - Our foresters specialise in tactical and operational planning, roading, harvesting and contract management, silviculture and native forest regeneration.

Other career paths include customer management, resource and business analysis, safety and risk, operational audit, forest science and product delivery.

We also employ staff in non-forestry roles, including policy and compliance, legal, information technology, human resources, communications, finance, administration and customer service. A significant proportion of our staff and contractors are also involved with fire-fighting efforts each year.

We care about our employees and are focused on investing in our staff through training, development and the provision of career opportunities.
Applying for Employment
We encourage applicants to send a resume outlining contact details, qualifications, training and work experience; and one to two pages that describe how the applicant's experience addresses the selection criteria outlined in the advertised position description.
---
Planning Manager – East Gippsland
Critical Operational Role
Attractive remuneration
Based in Orbost, East Gippsland
VicForests is a leading native forest timber harvesting and sales business. We play a key role in maintaining ecological sustainability and economic viability of the Victorian timber industry. We undertake all of our operations in a safe, efficient and sustainable manner, keeping our staff, the community and the environment in mind in all we do. VicForests is certified to the Australian Forestry Standard and is committed to building a strong commercial and performance-based culture through innovative commercial practices, staff development and outstanding forest management.
As a key member of the regional management team, you will lead and inspire a team staff
through the delivery and maintenance of Rolling Operations Plans, associated schedules and wood flows, as well as delivery of Timber Release Plans. The role will also provide support for the Regional Manager in stakeholder engagement and business development. You will have a dynamic leadership style, highly-developed communication skills, experience in negotiating successfully, and building positive relationships with staff, customers, and stakeholders.
VicForests values diversity, inclusion and alternative perspectives, therefore if you have a proven management experience in a dynamic, complex yet rewarding environment we would like to hear from you. VicForests values tertiary qualification and commercial forestry experience, yet are open to other relevant areas of learning and expertise that lead to a capacity to analyse and create solutions for commercial forestry issues. VicForests is committed to creating a diverse and equitable workforce. Flexible working conditions can be negotiated during the selection process.
VicForests seeks an enthusiastic person who has a strong desire to be part of an organisation that strives to achieve success through implementing excellence in innovative business and timber industry practices for our customers and stakeholders.
To apply for this role, please send an application letter outlining why you would love to work for VicForests and how you meet the key selection criteria in the position description, along with an up to date CV to vf.careers@vicforests.com.au.
Please click here for position description /static/uploads/files/position-description-2015-planning-manager-east-gippsland-cl-5-wfcpgfxphggp.pdf
Applications close Friday 1 December 2017
VicForests is an Equal Opportunity Employer
Safe • Customer Focussed • Professional • Sustainable • Respect
---