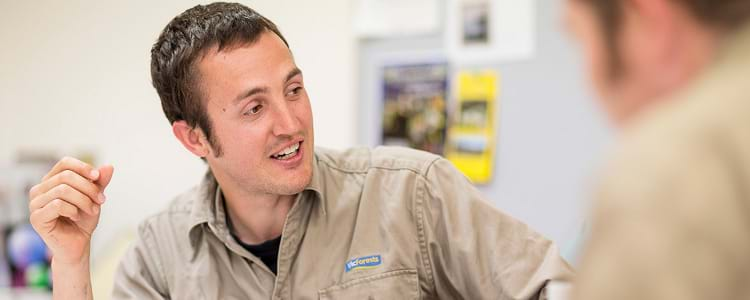 VicForests employs over 100 staff across nine regional sites throughout the Central Highlands and East Gippsland regions of Victoria, with a corporate support office in Melbourne.
We have a variety of exciting career opportunities available - Our foresters specialise in tactical and operational planning, roading, harvesting and contract management, silviculture and native forest regeneration.

Other career paths include customer management, resource and business analysis, safety and risk, operational audit, forest science and product delivery.

We also employ staff in non-forestry roles, including policy and compliance, legal, information technology, human resources, communications, finance, administration and customer service. A significant proportion of our staff and contractors are also involved with fire-fighting efforts each year.

We care about our employees and are focused on investing in our staff through training, development and the provision of career opportunities.
Applying for Employment
We encourage applicants to send a resume outlining contact details, qualifications, training and work experience; and one to two pages that describe how the applicant's experience addresses the selection criteria outlined in the advertised position description.
---
Media and Communications Manager
Challenging and exciting opportunity
Make this role your own
Permanent role with immediate start available
Are you interested in playing a key role in the sustainable management of Victoria's native forests?
VicForests is a State-owned business responsible for the sustainable harvest, regeneration and commercial sale of timber from Victoria's public forests on behalf of the Victorian Government. We undertake all of our operations in a safe, efficient and sustainable manner, keeping our staff, the community and the environment in mind in all we do. We play a key role in maintaining ecological sustainability and economic prosperity of the Victorian timber industry and VicForests efforts have been recognised through certification to the Australian Forestry Standard (AFS).
The Media and Communications Manager is a key position within our organisation that manages both our internal and external communications, and traditional and social media.
The nature of our industry means we deal with a issues rich environment which requires a high level of resilience and passion for what we do.
We are looking for an experienced media and communications professional who is able to hit the ground running, has great initiative and a good understanding of the media landscape both regionally and in the metropolitan area.
You must be comfortable working under time pressures and have a confident ability to provide media strategy and advice.
We would like to hear from you if you have:
Appropriate tertiary qualifications in Journalism, Communications or equivalent;
Excellent written and verbal communication skills;
Strong attention to detail;
The ability to create and maintain positive and strong relationships with a variety of stakeholders;
Three or more years' experience in a communications role dealing with contentious issues and a changing environment;
Hold a current Victorian driver's license with ability to travel regionally
And the initiative to deliver our business objectives.
What you will get in return:
Structured training and development plan
Wellbeing program including flu vacs, discounts on health insurance and health clubs
Myki discount
Flexible working conditions
Please find a copy of the position description here: /static/uploads/files/position-description-2018-media-and-communications-manager-wfjsbvpipcxa.pdf
To express your interest in joining the VicForests team, please send your CV and cover letter that addresses the above selection criteria to: vf.careers@vicforests.com.au
For additional information contact Lisa Sam on 03 9608 9500.
Applications close 5pm, Friday 27 April 2018
---