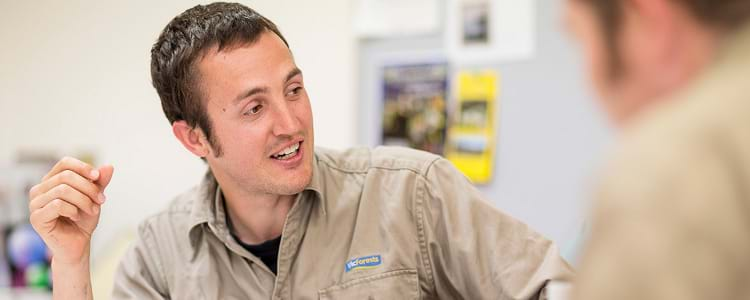 VicForests employs over 100 staff across nine regional sites throughout the Central Highlands and East Gippsland regions of Victoria, with a corporate support office in Melbourne.
We have a variety of exciting career opportunities available - Our foresters specialise in tactical and operational planning, roading, harvesting and contract management, silviculture and native forest regeneration.

Other career paths include customer management, resource and business analysis, safety and risk, operational audit, forest science and product delivery.

We also employ staff in non-forestry roles, including policy and compliance, legal, information technology, human resources, communications, finance, administration and customer service. A significant proportion of our staff and contractors are also involved with fire-fighting efforts each year.

We care about our employees and are focused on investing in our staff through training, development and the provision of career opportunities.
Applying for Employment
We encourage applicants to send a resume outlining contact details, qualifications, training and work experience; and one to two pages that describe how the applicant's experience addresses the selection criteria outlined in the advertised position description.
---
Opportunities Available
Resource Modeller
Permanent, full time
Varied and interesting role
Melbourne CBD Location
Are you interested in playing a key role in the sustainable management of Victoria's native forests?
VicForests is a Victorian State-owned business responsible for the sustainable harvest, regeneration and commercial sale of timber from Victoria's public forests on behalf of the Victorian Government.
We undertake all our operations in a safe, efficient and sustainable manner, keeping our staff, the community and the environment in mind in all we do. We are an active member of the communities in which we operate and we are committed to giving stakeholders the opportunity to have input into our forestry practices.
We have an exciting opportunity for an experienced Resource Modeller to join our Resources team. The role of the Resource Modeller is to drive further development of VicForests' planning systems and wood supply models, utilising a wide range of spatial and non-spatial data, and liaise with other business units within VicForests on resource issues.
We would love to hear from you if you have:
A degree in Forest Science or equivalent
High level GIS skills
High level data analysis skills
High level expertise in forest estate modelling
Experience in the development of policies, processes, procedures and reporting
Forest management experience
What you will get in return:
Structured training and development plan
Supportive and friendly team environment
Wellbeing program including flu vacs, discounts on health insurance and health clubs
Myki discount
Flexible working conditions
Please obtain a copy of the POSITION DESCRIPTION here.
To express your interest in joining the VicForests team, please send your CV and cover letter that addresses the above selection criteria to: vf.careers@vicforests.com.au
For additional information contact Lisa Sam on 03 9608 9500.
Applications close COB, Friday 28 September 2018
---