Introduction
VicForests' annual Resource Outlook seeks to provide up-to-date information about resource availability in the medium term and identify risks and opportunities for future development in the forestry sector in Victoria.
This information is provided to Government, industry and other interested stakeholders and fulfils an obligation under the Timber Industry Action Plan (2011).
Sustainable Harvesting
There are 7.9 million hectares of Crown land in Victoria (publicly owned forest), of which about 7.1 million hectares are National Parks and reserves or State forest. Of the 7.1 milion hectares, approximately 490,000ha wihin eastern Victoria are considered available and commercially suitable for harvesting in the current environment. A more detailed breakdown of areas can be found in VicForests' 2014 Area Statement.
VicForests currently harvests around 1300ha of ash eucalypt species and 2000ha of mixed species annually. This represents less than 1% of the area of State forest that is available and suitable for commercial activity and only 0.1% of total State forest area.
The 2013 VAGO Report[1] examined how well the systems designed to deliver sustainable timber management outcomes are operating and found that VicForests are harvesting within sustainable levels and its approach is both accurate and reliable.
Resource Modelling
Since 2010 VicForests has been developing a new, more transparent and flexible wood supply modelling system. This includes a new forest description, new growth models derived from long-term permanent growth plot data and estimates of product yield based on ten years of harvesting activity across a wide range of forest types in eastern Victoria.
The 2014 Resource Outlook is the first statement based on the new model and completes the transition from earlier systems developed by the Department of Sustainability and Environment (now DELWP). The ability to model and evaluate a range of log grades and supply scenarios, as well as introduce new products as required, will significantly improve integration of VicForests' Sale, Tactical and Operational planning processes.
[1] Managing Victoria's Native Forest Timber Resources. Victorian Auditor-General's Office (2013).
---
Resource Projections
The long-term (100-year) trends for ash and mixed species sawlog are similar to those presented in the 2013 Resource Outlook. Ash sawlog supply will decrease in 2017/18 as a consequence of the 2009 bushfires and remain steady until 2045 before again increasing as the post-1939 harvesting regrowth matures.
Mixed species sawlog supply is primarily governed by the availability of markets in the Central Highlands and limited by forest productivity and the impact of bushfires in East Gippsland. Overall, supply is expected to remain steady until 2040 and then increase slowly as previously harvested areas mature and the forest recovers from a series of bushfires in the last 30 years.
Ash Outlook
The medium-term outlook for ash sawlog (D+) supply is shown below, with current commitments to 2018.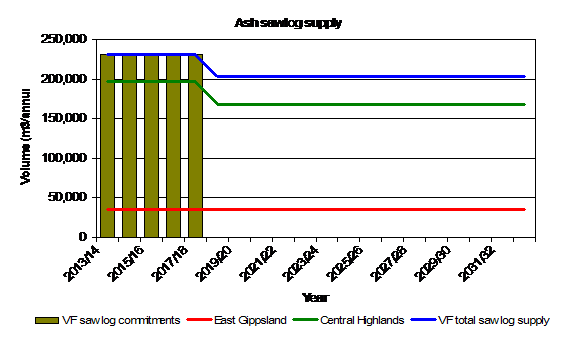 Mixed Species Outlook
The medium-term outlook for mixed species sawlog (D+) supply is shown below, with commitments to 2018.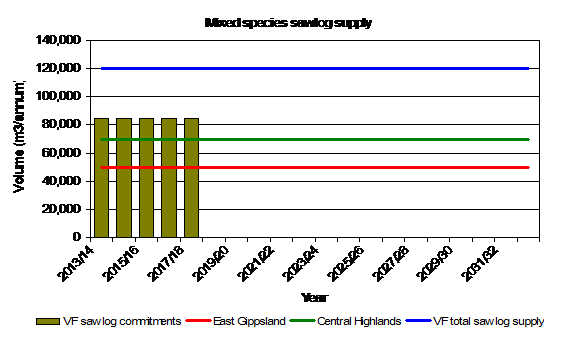 Risks and Opportunities
There are a number of on-going issues which are likely to impact on resource availability in both the short and long-term, some of which are described below. To offset some of these impacts, VicForests continues to actively engage with other agencies and stakeholders, improve its internal processes and investigate new opportunities to grow the forestry sector.
Resource availability
Fauna management will continue to dominate VicForests' activities and impact planning and supply. Recommendations from the Leadbeater's Possum Advisory Group (2014) have lead to changes in a number of areas and will impact on availability in both the short and long-term.
These changes include a two-year moratorium on those areas of forest expected to have a high occupancy of Leadbeater's Possum colonies, added protection of known records of the species, a shift towards retention harvesting and an increase in reserve areas to protect future old growth and existing prime habitat within the range of the species.
A review of Forest Management Zoning in the Central Highlands Regional Forest Agreement area is also due for completion in 2015. This is expected to change some land classifications and may affect some areas of State forest currently available for harvesting.
The impact of FSC certification on VicForests' activities and on wood supply is unknown however it is expected to include a number of landscape considerations, particularly in ash forests.
To partially offset these impacts, VicForests plans an increased emphasis on resource information and planning and a renewed focus on the secondary ash regrowth resource; in particular thinning of suitable sites and age classes.
Approximately 45,000ha of mixed species forest within the area available for timber production has been burnt in East Gippsland during 2014 of which 4500ha were areas already planned for harvest. Although the mixed species resource is resilient to the effects of fire, this will have considerable operational impact in the short term as VicForests' seeks to maintain wood supply in the region.
With the completion of the new wood supply model, VicForests is developing a two-pronged approach to resource planning to ensure better integration of strategic, tactical and operational planning systems. This is in accordance with recommendations from the 2013 VAGO review and should enable more precise definition of the resource and management of wood supply in the short to medium-term.
Markets
VicForests continues to pursue complementary residual log/pulpwood sales in mixed species in order to underpin its broader operations. The viability of bio-energy developments is uncertain in the short-term and markets impacted by the high value of the Australian dollar continue to be challenging. Allocation of the full extent of the mixed species resource will be dependent on achieving additional residual log sales.
---
This Outlook contains statements which relate to future expectations and may constitute "forward-looking statements". Such statements are only predictions and are subject to inherent risks and uncertainties which could cause the actual availability of resources, the resource offered and other values to differ materially from those expressed, implied or projected in any such statement. No representation or warranty, expressed or implied is made by VicForests that the material contained in this Outlook will be achieved or prove to be correct. Except for statutory liability which cannot be excluded, VicForests, its officers and employees expressly disclaim responsibility for the accuracy or completeness of the material contained in this Outlook. In particular, VicForests, its officers and employees disclaim all liability whatsoever (including negligence) for any loss or damage which may be suffered by any person as a consequence of any information in this Outlook or any error or omission there from. VicForests accepts no responsibility to update any inaccuracy, omission or change in information in this Outlook.
Download printable version of VicForests' Resource Outlook 2014