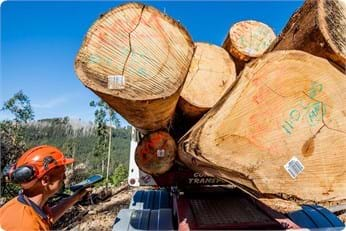 The plantation and native forestry industries are both important sources of employment and timber production in Victoria.
VicForests manages the timber production from native State forests on behalf of the Victorian Government. Plantations are generally owned and operated by private companies.
The type of timber produced by softwood plantations, hardwood plantations and our native forests varies depending on the species, the manner in which the trees are grown and the age at which they are harvested.
Different timber is used for different purposes.
Timber harvesting in our native forests produces durable, desirable hardwood timber and is designed to maximise the amount of high quality sawlog generated.
There are two major plantations types across the State – Pine and Eucalypt Plantations. Pine plantations contain exotic pine trees that produce softwood timber. Eucalypt plantations contain Australian Eucalypt species and produce hardwood timber primarily for pulplog.