Preliminary assessment against FSC Standards
---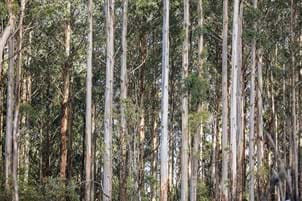 Preliminary Assessment Report
In September 2013, VicForests engaged SCS Global Services, an accredited FSC certifier, to undertake a preliminary assessment of our systems and operations against the:
Click here to read the full version of the SCS Preliminary Assessment Report 2014
The goals of the preliminary assessment were to gain a clear understanding of the requirements for Controlled Wood and Forest Management standards and identify areas where the VicForests management policies, programs or practices currently do not appear to be align with the FSC Principles and Criteria.
Whilst not a certification audit, it is instead an important opportunity to independently assess possible non-conformances within our systems and procedures. VicForests has decided to release a redacted version of the full assessment report and sees this as an important part of our commitment to increased transparency and sustainable forest management.
In summary, the assessment report doesn't definitively identify areas where VicForests does not currently meet the required standards but it does provide an indication of where a full certification evaluation may reveal non-conformities or where we need to better demonstrate compliance with the criteria.
Overall Positives
In the opinion of the auditor, "VicForests has in place a well-established, time tested yet evolving management system that is built upon a strong foundation of scientific forest management; and importantly, VicForests personnel from top management on down express a commitment to incorporate changes up to and including 'paradigm shifts' so as to bring its operations fully in line with FSC certification requirements".
Overview of Possible Non-Conformances
The following is a summary of the possible non-conformances identified during the assessment and, in cases where the information collected in the pre-assessment was sufficient, a classification of each possible non-conformance as likely to be either Major or Minor Non-Conformance.
A Major Non-Conformance is a significant gap between identified performance and the requirement of the applicable forest stewardship standard. Major Non-Conformances, if confirmed in a full audit, would result in Major Corrective Action Requests (Major CARs) that must be resolved prior to award of certification. Minor Non-Conformances result in Minor Corrective Action Requests (Minor CARs) which must be addressed within a time period specified by the lead auditor, but no longer than one year following the award of certification.
Controlled Wood Standard
The following represent some of the potential areas requiring further development:
Improved documentation surrounding a procedure for social impact assessments
Fully documented Supply Chain Management Control System
Continue to explore alternative harvest prescriptions and related stand/site treatments so as to more effectively demonstrate that silvicultural and other management practices are appropriate for natural forest function
Improved documentation surrounding respect of traditional rights and protection of indigenous values
Forest Management Standard
The following represent some of the potential areas requiring further development:
Improved documentation surrounding legal or traditional uses rights and responsibilities within forest areas we manage
Improved documentation that provides assurances of natural ecosystem function
Evaluation of social impact assessments
Continue to actively explore alternative harvesting and regeneration systems
Undertake landscape assessments and long-term monitoring of adequacy of and condition of reserves
Improved availability of the results of periodic monitoring
Undertake consultation regarding the assessment of High Conservation Values